Pre-Engineered Steel Buildings Components & Accessories
Sliding Doors, Louvres, Windows, Personal Doors, Skylights, Wall Lights, Ridge Ventilators, Roof Jacks and Roof Curbs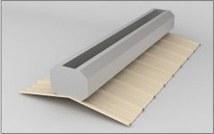 Ridge Ventilator is a Gravity type with bird screen and Mechanical control Damper has been practiced with Standard size of 2m long with a throat opening of 300 mm
Application :- Factories, Warehouses, Workshops, Industrial Sheds, Public utility Building etc.
Inadequate ventilation can lead to the build up of heat, moisture, pollution and even potentially harmful chemicals in the air that we breathe inside our buildings every day. Wind drivenTurbo ventilators used to Clean and, freshen the air. Supplied at a size of Dia – 300 mm, Dia -500mm, Dia – 600mm and Dia -900mm range
This Ladders with safety cage can be available as per requirement of the Building fabricated in house by us.

Polycarbonate / FRP Roof Skylight
Polycarbonate plastics with their lightweight, impact-resistant nature, offer a viable alternative to glass for skylight applications. These plastic sheets are layered with thin coatings that render them resistant to ultraviolet radiation, along with a recyclable nature, makes polycarbonate sheets a "green" component of your building. The sheets have a light-diffusing property that renders dirt undetectable; however, they can easily be cleaned by a simple pressurized jet of water. To choose the right polycarbonate sheet, you will have to consider the specific location and characteristics of your skylight.
Light transmission :- Customized light transmission to meet the specific requirements.
High impact strength :- 200 times the impact of glass and 10 times more impact resistant than FRP & Acrylic
Light weight :- Only 50 % the weight of glass. Can be easily handled.
Suitable for any kind of weather condition :- Highly durable, High resistant solid poly carbonate sheets withstand the extremities of weather – Scorching summer, torrential rain or freezing winter.
Aesthetic value :-Comes in clean or tinted, with attractive compact and textured finishes. Helps enhance the aesthetic value and the elegance of your structure.
Roof Insulated Rolls :- Insulated building rolls are efficient low-density insulation material made from non–combustible glass wool fibre & bonded together by thermosetting resins. The Product is easy to handle, cut & install.
Advantages:
Keeps cool & comfortable in summer & warm in winter
 Reduction in noise by high sound absorbtion
Non-Compustible
Water Repellent
Reflective insulation 4 mm to 8 mm, R9 equivalant to 50 mm thk, 24kg m3 Glass wool.